Product Information
20ft / 40ft prefabricated luxury expandable container house
The container house has grown in popularity of the past several years due to their inherent strength, wide availability, and relatively low expense.
We have also started to see people build homes with containers because they are seen as more eco-friendly than traditional building materials such as brick and cement. And
always self-develop the expandable container house , which is pre-assemble 95% before leaving the factory , fast and easy to assemble . And it can be moved frequently with the
larger living area comparing with the flat pack container house .
Features :
1. Safty and reliable light steel flexible structural system
2. Easy to transport, assemble and disassemble, repetitive to use
3. Unique design , which is attractive and comfortable to live in
4. Waterproof, soud-insulated, heat preservation, seal, easy to clean and maintenant
5. The custom house layout and decoration is available
6. Widely modal application, the office, conference room, dormitory, storage , home , dormitory etc.
Technical data :
Max.wind proof : 120 km/h
Max.earthquack : 8 grade
Roof load : 250 kg/m2
Floor load : 400 kg/m2
House layout : Custom made
The detail specification of the expandable container homes
Size : 20ft : 6400*5800*2530 mm
40ft : 6400*11800*2530 mm
Steel frame : Painted / Galvanized square tube/ C beam
Wall : 50/75 EPS/PU sandwich panel
Roof : 50/75 EPS/PU sandwich panel
Floor : Structral board + PVC floor
Window : double glazed PVC/ aluminium alloy window
Door : Glass door , wood door and titanium magnesium alloy door
Electrical : China /Australia / American / French / European standard is available .
Pipeline : Available
External wall decoration optional : PVC cladding panel , cement wood grain board , color corrugated steel sheet
Roof decoration optional : Lightg gauge steel roof frame system + asphalt shingle / color corrugated steel sheet
Bahtroom : toilet , shower room and the wash basin
Kitchen : I /L shape cupboard with sink
Custom house layout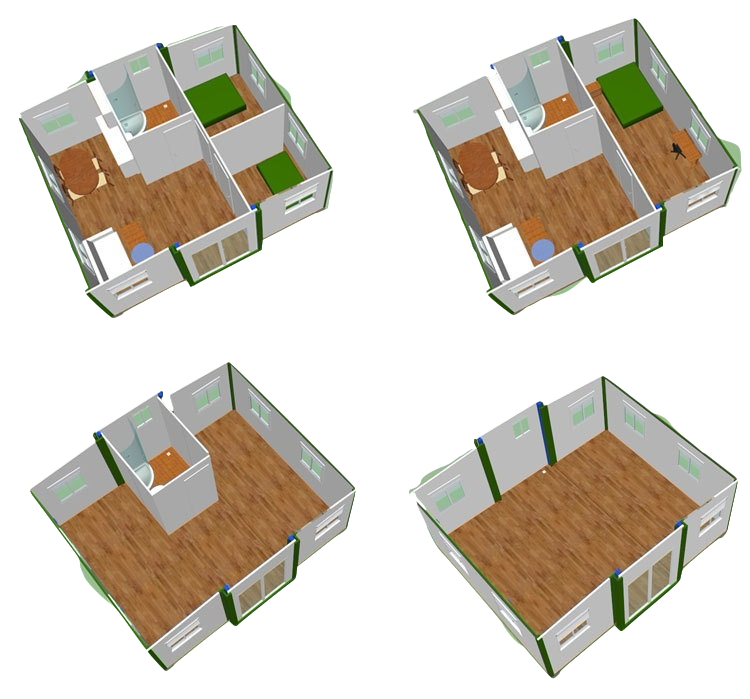 Optional decoration materials :
Optional designs of the expandable container house